Ghana
is renowned for producing the best in authentic African arts and crafts, these range from wood carvings brass works, sculptures, jewellery and a range of textiles.
Craftsmen painstakingly fashion exquisite artistic masterpieces from wood, bamboo, leather, cement and textiles. These indigenous and skilled craftsmen in the country can be found in virtually every village, town and city. Arts and crafts are an integral part of everyday life in Africa; and in Ghana it can be identified with all tribes and regions. Appreciation of arts and crafts is necessitated by cultures and traditions rather than aesthetic possessions and serves meaningful purposes in the communities.
[caption id="" align="alignnone" width="714"]
Ghana Bead[/caption]
The people of
Ghana
are warm and friendly. They are polite, open and trusting even with strangers. In Ghanaian society, it is traditional to take life at a relaxed pace and view time as a series of events rather than a matter of hours or minutes, "Let's get to business" conversation is considered rude. It is custom for Ghanaians to exchange pleasantries and inquire about family before beginning business. They greet one another, making extra effort to greet older people. With the men, it is tradition for handshakes to almost always accompany greetings.
The six larger groups are the
Akan
(Ashanti and Fanti), the
Ewe
, the
Ga-Adangbe
, the Mole-Dagbani, the Guan and the Gruma. Like most other African nations, Ghana has rich, traditional cultures that differ from one ethnic group to another.
[caption id="" align="alignright" width="166"]
AVAILABLE NOW
[/caption]
Along with different ethnic groups and cultures,
52 separate languages
and hundreds of dialects are spoken in Ghana. The official language is English — a residual of British colonial rule, from which modern
Ghana
gained independence in 1957.Until its independence, Ghana was known as the Gold Coast.
It was renamed Ghana, meaning "Warrior King," to reflect the ancient Ghana Empire that flourished in West Africa during the 10th century.
Today, the
Ghanaian government
is a unitary republic consisting of a president, parliament, cabinet, council of state, and an independent judiciary. It is tradition to hold elections every 4 years. The government administration operates out of the central business district of Accra, the country's capital city. Accra is also the country's largest city with a population of roughly 2.27 million.
Ghana
still lives up to its reputation as a country with vast reserves of minerals (gold, diamond, silver, bronze, etc) providing an abundance of resources for artists to produce exquisitely designed contemporary and traditional jewellery.
Ghana is often described as a land of festivals, music, and traditional dances
[caption id="" align="alignnone" width="1200"]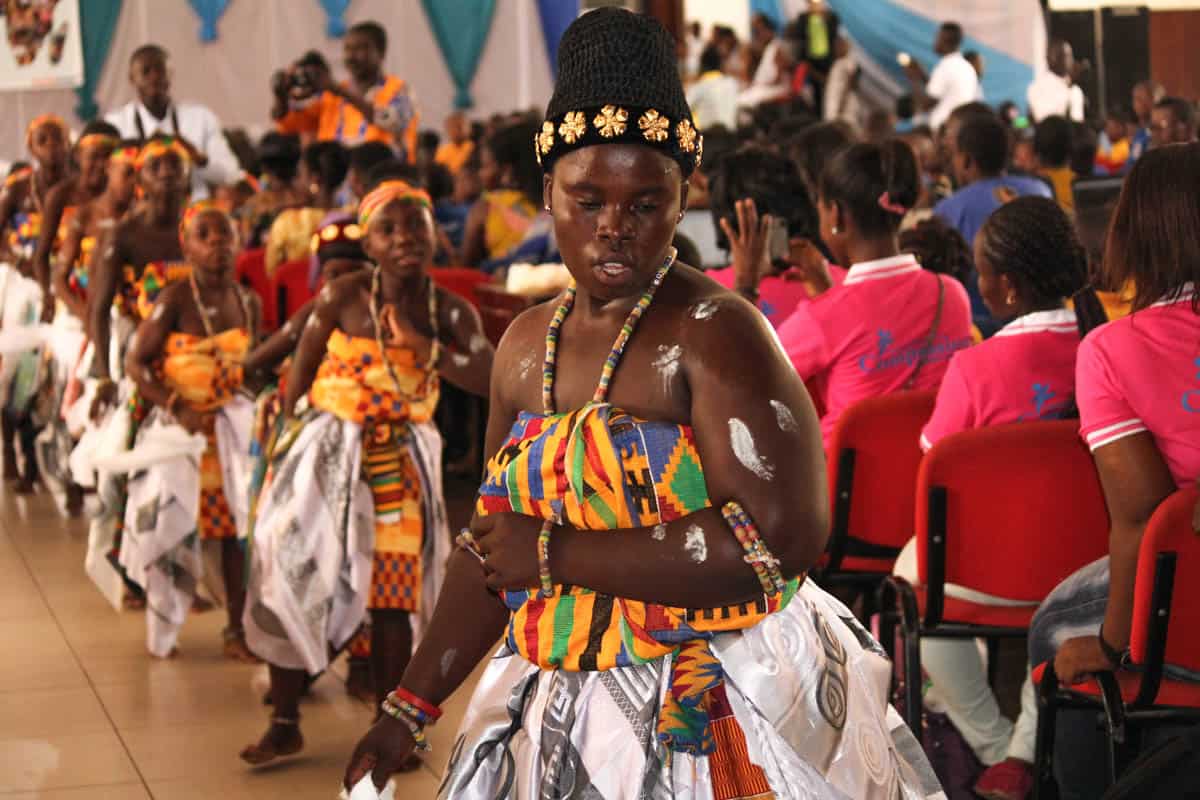 Festival Dance[/caption]
The traditional cloth identified with Ghana is 'Kente'. This multi-coloured, hand woven, quilted cloth is central to Ghanaian culture and traditionally worn as a wrap around by both men and women with slight variations. In the modern day Kente is now sewn in a wide variety of styles, ranging from shirts, blouses, and a two piece dress known as the "Kaba and Slit".
[caption id="" align="alignnone" width="1200"]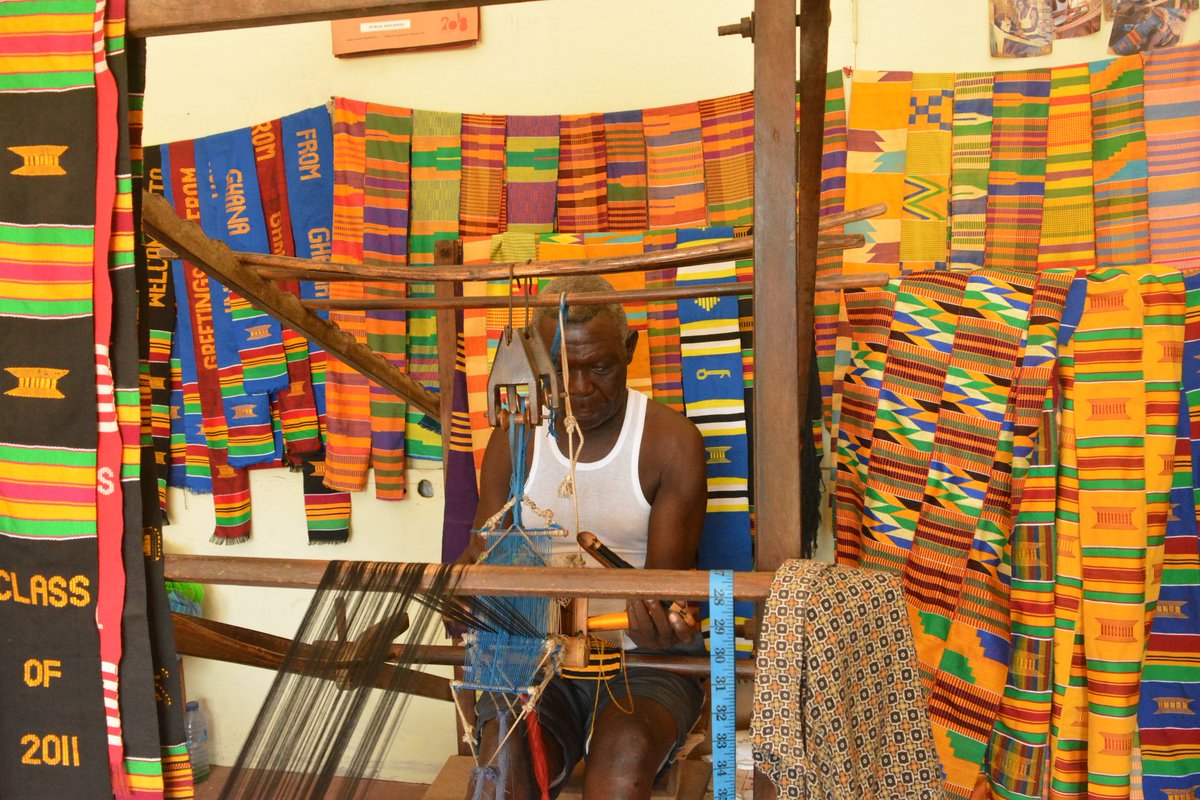 weaver man[/caption]
Affordable Craft ArtWorks for Sale
[caption id="" align="alignnone" width="1280"]
CraftWorks[/caption]
The preservation and telling of Ghanaian traditional culture and art has become increasingly important as the country and people continue to adopt modern and foreign influences. Organisations such as the
Nubuke Foundation
have been established to provide a space where people can come and explore traditional and contemporary art and culture. The Foundation organises exhibitions, storytelling, poetry reading and a series of workshops to engage a wide range of audiences.
Affordable Painting and Drawing Art For Sale Hurry up
[caption id="" align="alignnone" width="1100"]
Nubuke Foundation[/caption]
[caption id="" align="alignnone" width="1600"]
Accra Art Center[/caption]
Music and dance is an essential part of
Ghanaian culture
and it is through this media that historic events are narrated verbally and visually. Traditional music and dance are played and performed both on joyous and sad occasions in an expression of the event and to lift moral.
Traditional music
has recently given way to highlife and hip life, modern beats and rhythms with an African influence. The former is popular with the older generation and the latter, with younger people.
[caption id="" align="alignnone" width="912"]
Ghana Dance[/caption]
Ghana
is a
peaceful and welcoming Country
. Home for All!
[caption id="" align="alignright" width="156"]
Ghana Travel Guide AVAILABLE NOW[/caption]
I'm Parish Pascal a consultant; Africa Travel and Tour Agent, An Article Writer and Editor Binnabook. Africa Travelbook Contact:+233558113406. Email.amajuoyiop@gmail.com.
Kindle Adventure Ebooks Special for You
[caption id="" align="alignnone" width="250"]
WATERPROOF ART PORTFOLIO CASE
[/caption]
[caption id="" align="alignright" width="250"]
AFRICA WALL DECO MASKS Recommended
[/caption]