Nike Okundaye. Pic CRedit: guardian.ng
From a small beginning in her bedroom, Nigeria's Chief Davies-Okundaye now owns the largest art gallery
Chief Nike Davies-Okundaye is one of the internationally known female designers and artists. She hails from the village of Ogidi in Western Nigeria.
Born in 1951 to impoverished traditional artisans, she left school after the sixth grade to learn the traditional craft.In Ogidi, parents passed on their skills to their children in the form of vocational training concentrated within the household. Davies-Okundaye started as early as seven, according to
Forbes
Africa.
"Once a week, they taught me crafts. This craft they taught is for us to be able to know how to do handwork… so that's how I was learning," she told Forbes.
Hailing from Ogidi-Ijumu, a small village in western Nigeria with no formal education, Davies-Okundaye has gone on to educate generations of artists, through a network of art centers across Nigeria at no cost.
Popularly known as Nike Davies, she has a career spanning five decades. It has been a roller-coaster journey for the woman also known as Nike Twins Seven Seven. She lost her mother when she was six and subsequently lost her grandmother a year later.
Nike Okundaye. Pic CRedit: guardian.ng
She had to move in with her great grandmother, who was then the head of all the weavers in their village and a specialist in the traditional art of fabric dyeing of southwest Nigeria. It was at this point in her life that she learned to weave fabrics.
Davies-Okundaye's father was reportedly a basket weaver, who practiced embroidery and leather work and was also musician in the community.
Davies-Okundaye was confronted with a situation beyond her grasp when like many African girls she was married off at just 14 to a then minister who already had four wives!
She reportedly ran away from home and joined a traveling theater and ended up in Osogbo, the Nigerian town where she first established herself as an Adire.
In the 1960s, Adire became the heart of contemporary African art in Nigeria. It is a process where Yoruba women extract indigo from the indigenous elu plant using labor-intensive methods and then painting and dyeing the fabric with a homemade cassava emulsion.Davies-Okundaye soon became versed in Adire. Using her bedroom as a gallery, she was said to have sold her first work in 1968.
Not long, she started to attract foreign buyers including the likes of Alan Donovan, the acclaimed American gallerist and collector of African artifacts, Joseph Murumbi, Kenya's first Vice-President and one of Africa's most recognized private art collectors.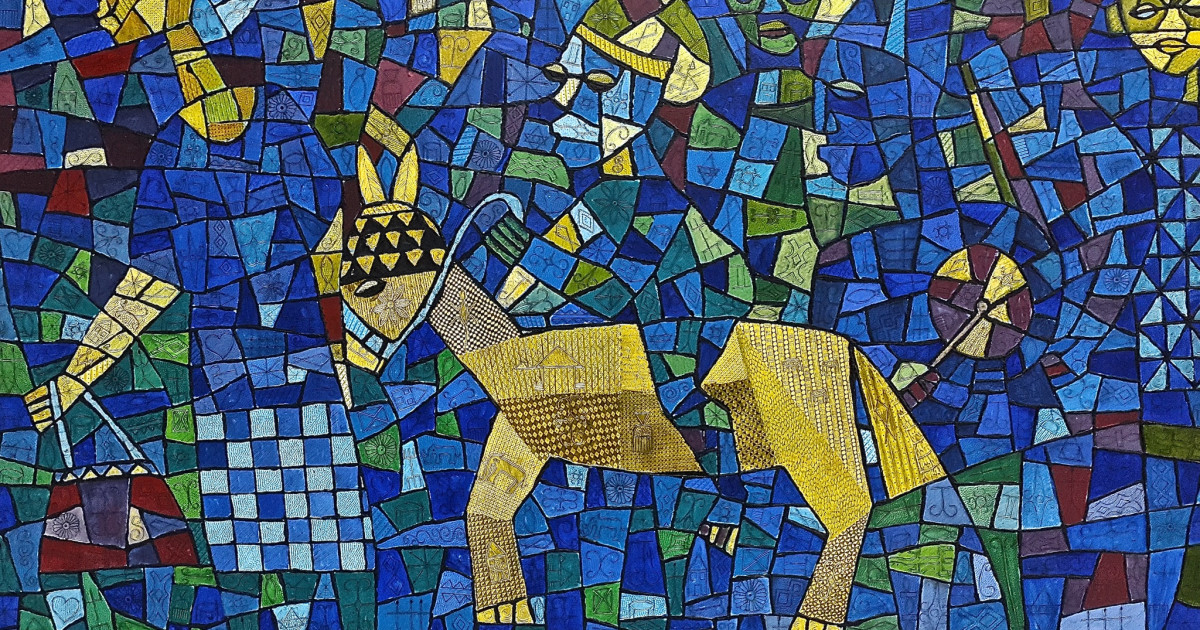 The Prince and his Bride, 2014 . Pic Credit: Gallery of African Art
Davies-Okundaye reportedly sent over 100 pieces of her work and that of other Osogbo artists to Nairobi which subsequently led her to visit Nairobi for the East African exhibitions of her Adire. Her works soon took her to the United States at the invitation of the American government, along with 10 other established artists from across the continent.
"We were privileged to be the first artists from Africa to travel to America in 1974. They asked us to bring something back that would benefit our people. They took us to galleries and museums and they allowed us to see their craft," she revealed.In 1983, she opened her first art centre, an informal education where she worked with disenfranchised women on the streets empowering them with skills in Adire, weaving, painting and other traditional arts for free.
Pic Credit: The Guardian Nigeria
The Nike Art Center has since grown to four spreading across Oshogbo Abuja, Lagos and her hometown, Ogidi. The Lagos center houses Davies-Okundaye's monumental art gallery, said to be the largest in West Africa with over 8,000 pieces from artists across Nigeria.
Nike has since grown to become one of the major names on the international art circuit with numerous awards. She has had over 102 solo art exhibitions and 36 group art exhibitions in her artistic life.
She is a member of many professional bodies and has earned the traditional chieftainship titles of "Yeye Oba" of Ogidi-Ijumu land, the "Yeye Tasase" of Osogbo land and "Yeye Gbasaga" of Ijumu Kingdom. Unlike many who retire at 60, Davies-Okundaye is still working in Lagos, Nigeria at 67.
ARTBOOK
Original Article from
face2faceafrica